Our Solutions
On-Line Translation
Translation
Search Engine
Sentence Library
Automatic Sentence
Generation in 7
Languages
Matching-Based
Translation
---
Prices/Orders
---
Login
---
WinDi Sentence Library (WSL)

Windi Sentence Library is the result of many years of linguistic R&D as described in the Projet History page (see above). WSL is a unique and pioneering approach based on aligned grammar and corpora between 7 languages allowing to retrieve a sentence among up to 10e62 aligned sentences.

A demonstration is available in order to allow you to quickly discover what is WSL. You will see that the translation results are of high quality. This tool is included in the WinDi Web Services subscriptions.
How to use WinDi Sentence Library

Step 1: Introduce your keywords...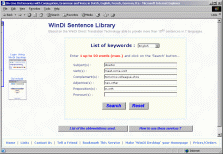 First of all, select the vocabulary language. Enter then your keywords in each required zone according to their function within the final sentence. You must separate your keywords with commas and enter ONLY root words (infinitive verbs, nouns/adjectives in the singular). Complements can be nouns and adverbs.
Step 2: Select your vocabulary and parameters...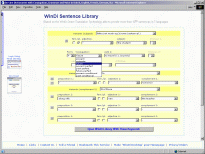 Here, you can select the form (question, negation, ...) and conjugation tense of the final sentence. You can also select the right context of each word and finally choose grammatical variants for subjects and complements.
Step 3: Click on the "Open WinDi Library" button and you will get your results in 7 languages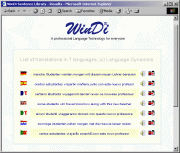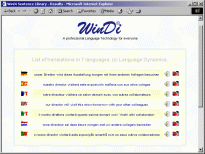 Easy : WinDi Sentence Library will provide you with translations in 7 languages.
Important Remark:
WinDi Sentence Library is a very powerful tool giving excellent translation results as long as it is carefully used.
DO NOT FORGET that the results will directly depend on the accuracy of your vocabulary selection. Our system prevents mistranslations to happen since the vocabulary context is defined by the user himself. Our system only applies grammar rules on the selected vocabulary which guarantees high quality translations because all our linguistic databases are fully aligned between the 7 supported languages.